UK tuition fees for international students
So you're an international student looking to study in the UK? We're here to guide you through tuition fees and living costs...
When it comes to deciding where you want to study at university, the whole world's your oyster. Except for one catch - money.
The UK is one of the most popular destinations for international students, and you can see why. It's home to some world-class institutions and culturally diverse cities, but it comes at a cost.
With tuition fees regularly exceeding £10,000 a year, and living costs, travel and books on top of that, you need to budget carefully and make sure the benefits of the degree are worth the costs.
If you fancy joining the hundreds of thousands of international students who study in the UK every year, then here's a lowdown of all the costs you'll need to take into account.
How much are UK tuition fees for international students?
Tuition fees for international students vary hugely across universities, courses and levels of study, so it's difficult to calculate an exact cost.
Although there are no exact rules, here are some things you'll want to take into consideration when pricing up your degree:
The more prestigious a university, the more expensive it will likely be. Check our list of the top 10 UK universities to get an idea of which are considered the best
Medical and science degrees, especially those which involve expensive equipment or access to laboratories, will be substantially more expensive than lecture-based degrees in Arts and Humanities
Since tuition fees are charged on a yearly basis, how long your course is will also be a major factor in its overall cost
The level of study might also be a big factor - although it's not always the case, postgraduate and doctoral degrees can be more expensive than undergraduate.
As you can see, there are a whole load of variables to take into account, so we can't give you one definitive price. We can give you some averages so you have a rough idea of what to expect, but always contact the individual university for exact prices.
International undergraduate tuition fees
Most undergraduate courses run for three years, although some can run for longer - if you do a sandwich course which includes a year in industry, for example.
However, undergraduate degrees at Scottish universities typically take four years to complete.
According to Times Higher Education, the average cost of tuition fees for an undergraduate degree as an international student is £12,000 a year - although some can cost significantly more than that.
In 2017, international students paid between £10,000 and £35,000 a year for an undergraduate degree, although medical degrees at some of the best universities went up to £38,000 a year.
International postgraduate tuition fees
If you decide you want to complete some further study after your undergraduate degree, you can expect to pay higher fees, especially for Masters or PhD's, which are popular and well-sought after postgraduate courses.
As these courses are naturally more niche and specialised, there might be some additional costs you need to be aware of, such as resources or research necessities. Always check with individual universities for these.
Just like with an undergraduate degree, costs will vary according to what kind of subject you'll be studying.
Times Higher Education calculate average costs as follows:
Classroom-based degrees - £14,096
Laboratory-based degrees - £16,222
Clinical programmes - £21,767
MBA (Master of Business Administration) - £18,914
Don't forget that scholarships and bursaries are much more common for postgraduate than undergraduate degrees, so it's more likely you'll be able to receive financial support to help you fund your studies. Head over to our guide to scholarships and bursaries for international students to see what's available.
Language Programmes
Many students also come to the UK to study a language at one of the country's many language schools.
Prices vary across institutions but you should expect to be paying around £70 - £100 a week for a standard full time course (15 hours) or around £1,000 for a more intensive course lasting a few weeks. Again, prices vary depending on where you study and the service provided.
Check out Foreign Students for a directory of English Language schools in the UK.
Bear in mind that some courses will be accredited (i.e. they are recognised qualifications), and they will likely be more expensive than non-accredited ones.
How do UK international tuition fees compare with the rest of the world?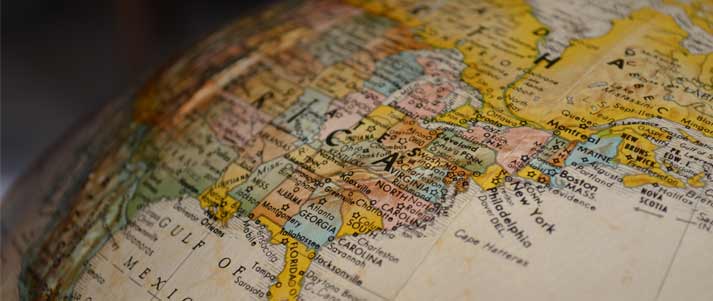 If you're looking for a cheap destination for studying abroad, then the UK might not be your best bet. In fact, in 2016 it ranked as the 6th most expensive country in the world to study as an international student, alongside the likes of the US, Australia, New Zealand and Canada.
In comparison, places like Germany, Sweden, South Africa, Finland and Denmark are considerably cheaper, by as much as £10,000 a year in some cases (when taking both tuition fees and cost of living into account).
Countries such as Germany and Norway have completely free tuition fees in most cases (for international students as well as home students!) so you might only have to factor in living costs.
However, degrees in the UK are often shorter than in some countries. For example, an undergraduate degree in the US is four years, but only three in the UK, and an MA is two years in the US, while in the UK they typically only last one. This can have a significant impact on the fees you pay overall.
The UK does boast some of the best universities in the world, with a fascinating culture and impressive employment prospects to boot, but studying here is a serious investment, so you need to make sure it's right for you.
UK living costs for international students
Don't forget that tuition fees are just one of the costs you'll have to factor when coming to the UK to study - you'll need to budget for living costs as well.
In order to get the Tier 4 student visa required to live and study in the UK, you'll need to prove you have enough money to cover your living expenses while here.
This equates to £1,015 for each month of study (£1,265 if you'll be based in London) up to nine months. So if your course is nine months or more, you'll need at least £9,135 in your bank account in order to get a visa.
If you add this to the cost of tuition fees you've got a pretty sizeable sum - research has shown that for international students the average total cost of studying in the UK is £24,000 a year.
You'll need to think about rent, bills, food, transport, books as well as travel to and from the UK.
You'll also need to take into consideration the cost of the visa itself - currently £322 - and if you'll be studying in the UK for more than six months, you'll have to pay an NHS health surcharge of £150 a year.
Got questions about studying in the UK as an international student? Or maybe you're wondering what it would be like to study in America? Give us a shout in the comments below!