Student complaints have risen by THIS much in the last year
Ever had an issue with your university that you can't (and shouldn't) look past? You could be entitled to complain and seek compensation – and more and more students are doing just that.
The number of student complaints to a watchdog in 2018 was the highest it had been in four years, up 20% from 2017.
In their annual report, the Office of the Independent Adjudicator for Higher Education (OIA) revealed they'd received 1,967 complaints in 2018 compared to 1,635 in 2017.
Students can complain about a range of issues, like unfair grades, the value for money of their degree, their tuition fee status (whether to pay home, EU or international fees) and accusations of plagiarism and cheating.
If students in England and Wales aren't happy with the outcome of complaints made to their unis, they can get in touch with the OIA. Here, complaints are reviewed and can lead to some much-deserved compensation.
Why was there a rise in student complaints?
Out of all cases of complaints closed by the OIA in 2018, ones about academic status (referring to the marks and grades awarded to students) were the most common. They accounted for 50% of all closed cases, followed by ones about service issues, including complaints about value for money, which accounted for 23%.
On top of this, 7% of all complaints were about financial issues. These include disputes over fee status like whether students should pay home or international fees, and about what happens to tuition fee payments if a student drops out of uni.
Sarah Liddell, Head of Leadership Office at the OIA, told Save the Student that, as the number of complaints they receive each year is from a small proportion of the student population, it's hard to know the exact reason for the rise. But, she added:
We think there are several potential factors in the rise.

This includes students becoming more aware of their consumer rights and the "cost" of their studies, the effect of our good practice work in identifying and reducing barriers to students bringing complaints to us, media attention around the USS pensions-related industrial action raising the profile of student complaints generally, and work we have been doing to make our service as accessible as possible to students.
The OIA received 50 complaints from students about the industrial action in 2018 which led academics across the UK to strike. Liddell said:
Most of these raised concerns about value for money, but some were about the impact of the industrial action on the student's assessments.
Which degree had the most complaints?
| Rank | Subject area | Number of complaints in 2018 |
| --- | --- | --- |
| 1 | Business & administrative studies | 247 |
| 2 | Subjects allied to medicine | 237 |
| 3 | Law | 159 |
| 4 | Engineering & technology | 123 |
| 5 | Creative arts & design | 117 |
| 6 | Psychology | 98 |
| 7 | Social studies | 91 |
| 8 | Computer science | 85 |
| 9 | Biological studies | 85 |
| 10 | Economics & politics | 74 |
How much money can you get from uni complaints?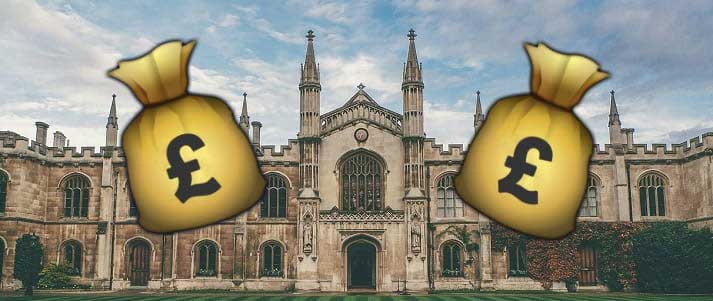 A lot of students aren't aware of their rights to complain, or how much money they could be entitled to in compensation.
If a student's complaint is found to be justified, the OIA can recommend to the university that they offer compensation.
In 2018, they recorded a total compensation of £639,515 based on their recommendations, and the highest single amount they recommended was £54,200.
Do you know your rights?
In 2015, the Competition and Markets Authority published information for higher education providers and undergrad students on how consumer protection law affects them.
If you think you were at all misled or misinformed about your degree when applying, like how your tuition fees are spent or how your course is structured, you could be entitled to complain and receive compensation.
We spoke to Amber, a Psychology student at University of Leeds. She doesn't consider her degree to be good value for money, but she was previously unaware of her right to complain.
With around seven hours of lectures a week, Amber expressed frustration in paying the same for her degree as students in other departments who have significantly higher contact hours.
My main concern about the value for money of my degree is that I am paying the same amount as people who have more than double the time in lectures and seminars as I do.

While they tell me the rest of my time I should be "reading for my degree" I don't see why I pay the same as those who are in lectures 20+ hours a week! Especially as I am still expected to buy my own textbooks.

I just want to feel like I'm getting my money's worth, and while I can only commend Leeds for its wonderful staff and decent resources for my course, I cannot wrap my head around why I'm paying the amount that I am.
But, despite her concerns, Amber has not complained formally about the value for money of her degree:
I haven't made any formal complaints about the value for money of my degree as I didn't really realise I could! I knew I could complain to friends, even members of staff, but I didn't see the point as I didn't think it would get me anywhere.
If you're a graduate, you could also be entitled to repayments – see if you're owed a refund for paying your Student Loan too early.